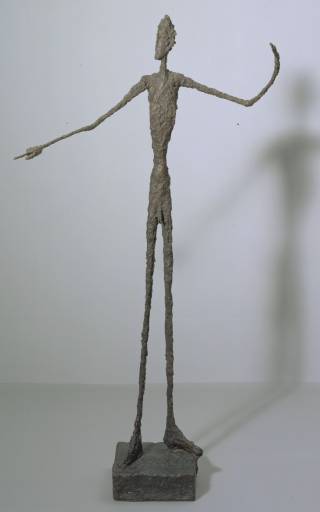 For this project I have the brief to imagine, create and design a city, for a film/game, whilst working from the artistic influence of Alberto Giacometti. Giacometti was a Swiss artist born in 1901 and died in 1966 and was always interested in art as his family were. Also his two brothers also became artists. I am very glad I got an artist to work with for this project, and happy that it's someone who specialises in sculpture. To have an artist that works in 3D is an advantage for creating a 3D city scape. I also really like the style of work that Giacometti works in, however I do like working in colour, but maybe I can incorporate a colour palette
into the city.
Giacometti works a lot with bronze sculptures, and he is best known for his studies of the human anatomy, which he carries out in a very distinct style. His studies of people are thin, lanky, stick-like figures.
I hope to portray Giacometti's iconic style through my city, but I do want to create something truly individual and unique in my work, that has Giacometti's influence visible in it. I don't want to design a city that's going to look like something out of a Tim Burton movie. It's way too overdone, and the last thing I want to do is to fall into the trap of recreating something that's already done. I want to create something new and unseen.